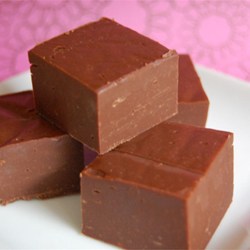 Ingredients:
1 cup coconut oil
1 1/3 cups coconut butter/manna
1 cup coconut milk
1 cup raw honey
4 teaspoons peppermint extract
1 1/3 cup cocoa or raw cacao powder
Preparation:
In a double boiler over medium low heat, mix together the coconut oil, coconut butter, coconut milk, honey and peppermint extract until fully melted and combined.
Add the cocoa and stir until well incorporated.
Spread the fudge in an 8 x 8-inch pan or molds and place in the freezer for 2 hours.
Allow to thaw slightly before cutting and serving. Store any remaining fudge in the freezer.