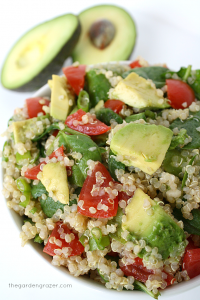 Total Time: 15 minutes
Serves: 4-6
Ingredients:
½ cup quiona
1 cup water
1 cup cherry tomatoes halved
1 avocado cut in cubes
¼ cup parsley
1 cup baby spinach
2 T diced onion
2 T lemon juice
sea salt to taste
Preparation:
In a small sauce pan, combine the quinoa and water.
Bring to a boil, then cover and turn down to simmer until all the water has been absorbed. It usually takes about 10 minutes.
Let the quinoa cool before making this salad.
Add all the ingredients to a bowl and toss well.