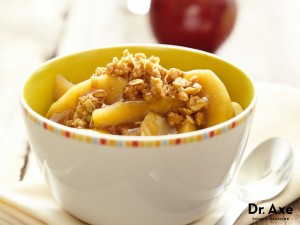 Total Time: 10 minutes
Serves: 8
Ingredients:
8 apples, peeled and chopped
1 c. Raisins, soaked and drained
2 tsp. Cinnamon, divided
1/4 tsp. Nutmeg
2 Tbsp. lemon juice
2 c. walnuts
1 c. medjool dates
1/8 tsp. Sea Salt
Instructions: 
Place 2 apples, raisins, 1 tsp. cinnamon and nutmeg in a food processor and process until smooth.
Toss remaining chopped apples with lemon juice in a large bowl. Pour apple raisin puree over apples and mix well.
Spoon mixture into a medium sized baking dish and set aside.
Pulse walnuts, dates, 1 tsp. cinnamon and sea salt in a food processor until coarsely ground. Be careful not to over mix.
Sprinkle mixture over apples and press down lightly with your hands.
Serve immediately or let sit for a few hours for the flavor to marinate.
This raw apple crisp recipe is gluten free, healthy and easy to make! Eat it cold or warm it up, either way you will want seconds!