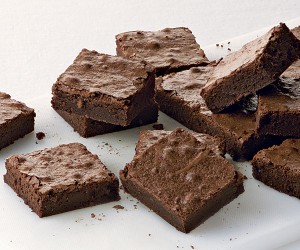 25 Brownie Bites
Ingredients:
1 cup of raw hazelnuts
1/2 cup raw almonds
1/2 cup + 1 tablespoon creamy peanut butter
1 1/2 cups pitted and chopped dates
1/2 tsp vanilla
6 Tbs raw cacao or unsweetened cocoa powder
Instructions:
Put nuts in a food processor and process until finely ground.  Add the rest of the ingredients and process until well blended.  Press dough firmly into an 8″ square baking dish.  Refrigerate.  Cut into 25 squares and serve!