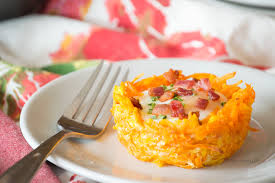 Ingredients:
1 large Sweet Potato
1 Sweet Apple (we use Gala)
2 Tbsp Coconut Oil + more for greasing muffin cups
5 large Eggs
Sea Salt, to taste
Chives, optional
3 slices uncooked Bacon, diced small
Balsamic Vinegar, optional
Directions:
Preheat the oven to 350°F.
Lightly grease 5 cups of a jumbo muffin tin with the coconut oil. Set aside.
Peel the potato and apple and cut into large pieces (to fit into the food processor).
In the bowl of a food processor with the shredder attachment, shred the apple and potato together.
In a large skillet (preferably non-stick or a well-seasoned cast iron), heat the 2 tablespoons coconut oil over medium heat.
Add the shredded potato/apple and saute until softened, about 5 minutes, stirring occasionally. Salt to taste while cooking.
Using a 1/2 cup measuring cup, scoop the potatoes out of the skillet and into the greased jumbo muffin cups.
Depending on the size of your potato, you may get slightly more or less than 5 cups. using a small jar or cup, press an indentation into the potatoes, creating a well in the middle and pushing the potatoes up the sides of the muffin cup. This is your nest.
Crack one egg into the center of each potato nest.
Sprinkle with chives (optional) and salt to taste.
Bake in the preheated oven for 15-20 minutes, or until eggs have reached your preferred doneness.
While egg nests are baking, cook the diced bacon bits in the same skillet until crispy.
Remove with a slotted spoon and drain on paper towels. Remove the nests from the oven.
Using a large serving spoon, gently scoop them out one at a time and place them on a serving dish.
Sprinkle bacon bits on cooked egg nests, drizzle with a bit of balsamic vinegar, and serve hot.