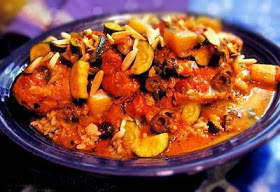 10-pound leg of lamb, broken into 6 cuts (ask your butcher to do this for you)
1 cup pomegranate molasses
1/4 cup extra-virgin olive oil
3 tablespoons balsamic vinegar
1 tablespoon Dijon mustard
2 cloves garlic, peeled
1 medium-sized nub fresh ginger, peeled and grated
4 sprigs fresh thyme
4 large leaves fresh mint
1 teaspoon cracked black pepper
Kosher salt
Preparing the lamb. Put the lamb pieces into a large bowl.
Making the marinade. Combine the pomegranate molasses, olive oil, balsamic vinegar, Dijon mustard, garlic, ginger, thyme, mint, and pepper in a blender. Turn on the blender and run it until the ingredients combine into one smooth concoction, about 3 to 4 minutes.
Marinating the lamb. Pour the marinade over the lamb pieces. Mix it up with your hands until each piece is coated. Cover the bowl with plastic wrap and let it sit in the refrigerator overnight, preferably for 24 hours.
Grilling the lamb. Take the lamb pieces out of the marinade. Reserve the marinade for later use. Fire up the grill until it's screaming hot. Season the lamb with salt and pepper. Lay the lamb pieces down on the grill and cook until the bottom is seared, with a nice char on it, about 7 to 8 minutes. Flip the lamb pieces. Brush with the remaining marinade. Cook until the lamb has reached an internal temperature of 140° for medium-rare lamb. (The timing on this is going to depend on the thickness of the meat you have and the power of your grill. Be sure to watch the lamb carefully. The sugars in the marinade could burn easily, if you're not watching.)
Take the lamb off the heat. Set a saucer upside down on a large platter and lay the lamb down on the sides of the saucer. Let the lamb rest for at least 15 minutes before slicing it.
Slice it up!
Roasting the lamb. If you don't have a good barbecue, or you're finding this recipe later in the year, you can also roast the leg of lamb. Make the same marinade. Slather it all over the leg of lamb. Refrigerate for 24 hours. Heat the oven to 500°. Put the lamb in a roasting pan. Put the lamb into the oven and set the timer for 15 minutes. Turn the heat down to 350°. Brush the remaining marinade on the lamb occasionally. Roast until the lamb has reached an internal temperature of 140°. Let it rest in the same fashion described above.
Cook some lamb!