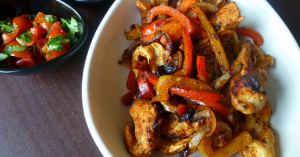 Ingredients
2 peppers, 1 onion
2 chicken breasts
1 tsp paprika, 1/2 tsp ground cumin
1/2 tsp ground cumin
1 lime
1/2 a fresh red chili
15-20 ripe cherry tomatoes
A small bunch of fresh cilantro
Extra virgin olive oil
Cooking Steps
Remove seeds from the peppers and cut into thin strips. Peel and finely slice the onion. Cut your chicken lengthwise into long strips. Put the peppers, onion, and chicken into a bowl and add the paprika and cumin.  Squeeze over the juice of half a lime, add some olive oil and season well.  Let this marinate for 5-10 minutes.
To make the salsa, chop the chili, tomatoes and coriander (including stalks) and add to a separate bowl. Season and add the juice from ½ a lime.
Add the peppers, onions and chicken to a preheated pan. Cook for about 15 minutes until the chicken is cooked through. Keep an eye on the pan so it doesn't burn.  You want a nice char-grilled color.
Plate up your chicken and vegetables with some salsa.
Add some extra sides if you want: lettuce, guacamole, hot sauce. Enjoy!