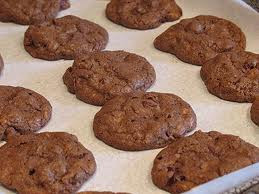 Satisfy a chocolate craving with these little bites of decadence.
Even better, these cookies require only one bowl and about five minutes to mix together!
Ingredients:
6 Tbs. coconut flour
6 Tbs. coconut oil or butter
1/4 cup raw honey
2 eggs
3 Tbs. unsweetened cocoa powder
1/2 tsp. vanilla extract, optional
1/4 tsp. baking soda
1/2 tsp. apple cider vinegar
Preparation
Preheat the oven to 350. Line two baking sheets with parchment paper.
Mix together the coconut flour, butter/oil, honey, eggs, cocoa powder, and vanilla extract. Let sit for 10 minutes; the batter will thicken slightly.
Mix in the baking soda and vinegar. Drop teaspoons of batter onto the baking sheets. Use the back of a spoon to spread the batter into circles about 1/4 inch thick. The batter will not spread very much when baking.
Bake for about 12 minutes, until dry to the touch. Let cool for at least 15 minutes before removing from the baking sheet.
Makes about 12 cookies.